We know most 2020 events have been cancelled or postponed. But don't let this summer pass you by without a great event. Why not host a garden party instead to bring people together?
Whether you're gathering a group of friends or hosting a wedding reception with a reduced guest list, make sure your outdoor event is the party to be at this year.
Select your venue
Chances are you'll be hosting the event in your own garden, but did you know you can hire out a sports field or other outdoor area to host your event?
It may be a more expensive option to hire an outdoor area, but there are several benefits. Your outdoor venue will no doubt have additional facilities and amenities such as toilets and a kitchen you can use to prepare food. This will save you from feeling anxious about your guests traipsing through your own property. Venue hosts are experienced in helping run great events, even for a small guest list. You could even consider hiring out a beer garden or roof terrace to cater for your party. It's likely external venues have all the safety and security measures in place to minimise the risk of COVID-19 spread, so you won't need to implement your own safety precautions.
Hosting your own garden party
Hosting an intimate garden party on your own property is the least expensive and possibly most practicable option for parties of under ten people. Don't forget to consider basic essentials such as outdoor power supply and how to signpost your guests to facilities such as the kitchen or bathroom. Remember, we're still all following government advice and thus can only meet with up to five other people outdoors. That means only one person at any one time should go indoors to use the facilities and all touch-points should be disinfected after use where possible. Make this as easy as possible for guests by providing hand sanitiser and disinfectant wipes.
Whether you're hiring a small venue or hosting a garden party on your own property, you must ensure you have the right insurance in place. As the event host, you'll need your own Public Liability and possibly Event Equipment insurance. This will ensure that, if a guest damages your property (or a venue's property) or equipment such as a sound system is damaged then you won't be left footing the bill. If you've really pushed the boat out and cancelling your event would leave you significantly out of pocket, you should also consider Event Cancellation Insurance.
Create an atmosphere
Hosting a garden party might be the next best thing to an indoor dinner party or venue-hosted extravaganza. But that doesn't mean your party has to be second best.
Decide on the theming for your garden party. You may want to embrace the outdoors and go all out with picnic rugs, fairy lights and eco-friendly décor. Alternatively, try to emulate the formalities of an indoor event by setting up a dining table outside with a buffet station and drinks bar.
Establish from the start what your theme will be. This will dictate how people dress, what decoration you'll need to buy and even what food to consider. Are you hosting a sixties-style picnic or going for a woodland lodge vibe? Make sure your invitations state what's expected of guests so they know how to dress.
You'll need to be considerate towards those around you when deciding on music. It might be tempting to hire out a big sound speaker system, but your neighbours might not thank you for it. Instead, a small portable speaker will be your best option. Be particularly cautious of noise pollution after 11pm – you don't want a complaint spoiling your great party!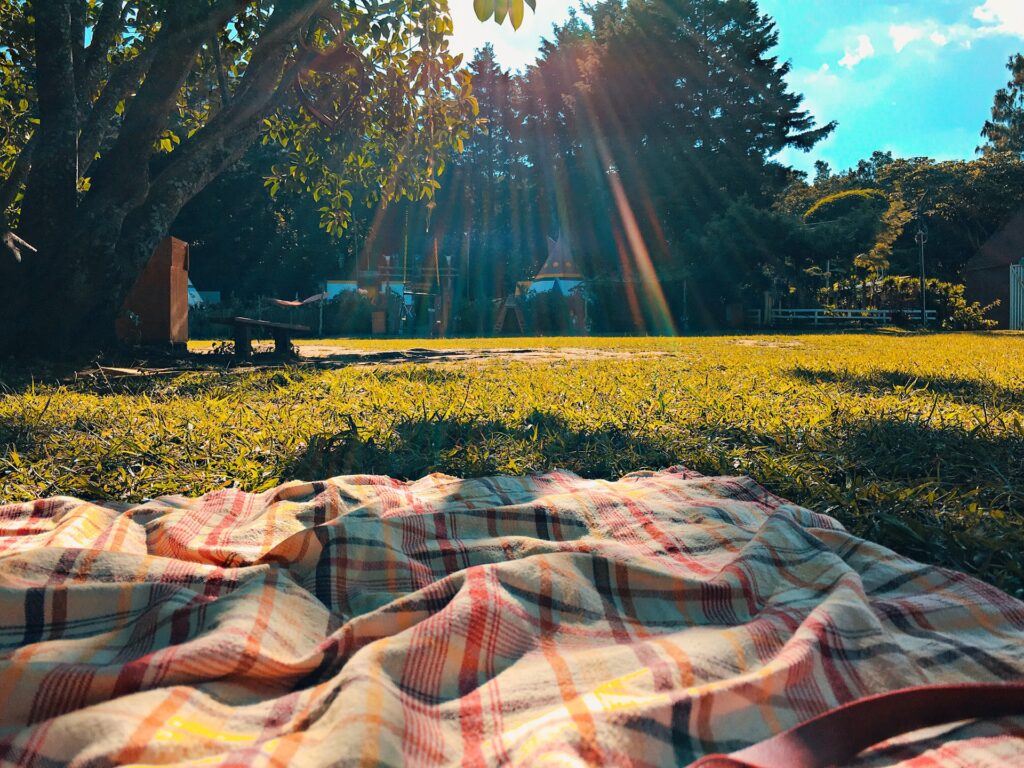 Choose the right food and drink
BBQs are a firm favourite amongst guests, but prepping food ahead of time gives you (the host) a much better experience as you'll have time to socialise with your guests. Buffet-style food is the next best option but aim to make this more exciting than sandwiches with curly edges by offering plenty of pasta and salad dishes too. As the coronavirus pandemic is still rife, you won't be able to leave food and drink left out unattended. Instead, prep food and leave it in the kitchen ready to serve out onto individual plates. People will still be able to ask for seconds – it's just not advisable to share food at the moment.
Pitchers of cocktails and soft drinks also add something a little special for your event. While everyone loves a bottle of beer or a cool glass of wine, there's something lovely about your host topping up people's glasses from a party pitcher. Again, keep any open drinks covered and away from the guest area.
Remember this: always prepare more food and drink than you think you'll need! Worst-case scenario, you can always save leftovers and enjoy them later.
Don't expect guests to pack their wellies
You might have to host your event outside, but marquees are a great way to make sure bad weather doesn't rain on your parade. Choose a marquee that's slightly bigger than you might need to ensure your guests can still adequately socially distance.
A garden party in the summer is likely to be bright, light and warm – but prepare for the weather being a little breezy too. Stock up on blankets and rugs to keep guests cosy as the evening sets in. You could also consider hiring or purchasing outdoor heating if you're planning to enjoy a late-night garden party.
Personalise your garden party
It's likely any garden party happening this year will be a low-key event. Therefore, you won't have a huge guestlist to consider. You should know the people attending your event and be able to tailor your event to their enjoyment.
Think about the type of music your guests like, and create a personalised playlist to suit. Add in a few of each guest's favourite songs, and they're bound to notice the effort you've gone to.
Every host should take into account dietary requirements – but what about favourite food requests? If you're only prepping for less than ten people, you should plan to personalise your menu. You don't need to stick to one cuisine if you're dishing up for each person. Mix things up and create a fusion of cuisines to impress your guests.
Finally we come to entertainment. Are your guests likely to enjoy board games, or is an outdoor cinema experience more their style? Think about what entertainment will work best for the group as a whole and plan accordingly. There's always an option to run a vote, too, to allow your guests to decide how they'd like to spend the evening.
Most importantly… enjoy yourself
You've put all the effort in to create a great event for your guests, but remember to have a good time too. Bringing people together is an opportunity to catch up with friends and relax. Don't end up stressing so much you don't enjoy your own garden party!
We understand the current guidelines and restrictions make hosting a party slightly more stressful than usual. An event risk assessment and enhanced safety measures will put your guests' (and your own) mind at rest. Small but significant measures include laying seats out at least one metre apart, and ensuring your guests use hand sanitiser before they enter the event. You could even provide each guest with their own hand sanitiser specifically for the party. Or invest in matching masks to wear. You should be able to show you've done all you can to protect yourself and your guests from contracting coronavirus. Yes, a party's all about having fun – but you need to stay safe too!
We'd love to know how your garden party goes. Get in touch with the IOE team over on Instagram!