Don't let adverse weather spoil your day
Events have picked up and birthdays are back to normal – but don't let bad weather spoil your day. Whether it's a small family garden party or an outdoor market, it's likely winter is going to be an unusually busy season for events this time round. Adverse weather cover is essential.
Under normal circumstances, outdoor events tend to happen in spring and summer. But, let's face it, not a lot of the past couple years has been normal, has it? Event organisers, particularly those planning private parties and celebrations for friends and family, are taking a risk and going ahead with an outdoor events into January and beyond.
What's usually been the rainiest time of year in the last decade?
In 2019, autumn was certainly a wet one. Sheffield and parts of Nottinghamshire and Lincolnshire recorded its wettest autumn weather for well over a decade. Lincolnshire experienced over half its expected annual rainfall in just three months throughout autumn too.
In 2018, winter and spring were wetter than usual, though the Beast From The East contrasted drastically with the 2018 heatwave.
2017 saw Storm Dorris bring wet and windy weather in February. March was a bit of a rollercoaster, though, swinging between being the 5th warmest March since records began to heavy snow in the latter half of the month. Autumn 2017 was certainly no picnic, with Storm Aileen sweeping the UK and Ex-Hurricane Ophelia passing through in October. Widespread frost and snow followed.
Winter 2015/2016 was the mildest winter on record, and the second wettest. Though not particularly snowy, heavy rainfall is still more than enough to spoil an outdoor event.
The wettest season on record nationally was in 2000, where 502.7mm fell on average
Could the 2020's beat its predecessor as the wettest decade on record? If the start of 2022 is any indication, we are certainly on track. 2022 is the year of La Niña, increasing the risk of colder winters in this particular year. But with weather, it's always impossible to predict, we'll have to wait and see, and therefore should be no reason to not go through with an event.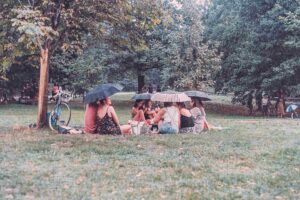 How will adverse weather impact my event?
Wet and windy weather not only puts people off attending, it also poses logistical problems. Will your equipment get damaged or your food and drink be ruined if there's heavy rainfall? Can guests access your event area if it snows, or there's increased slip and trip hazards due to rain and debris? Ultimately, is it safe for your event to go ahead?
Whilst you should be prepared for all eventualities, and have additional risk management procedures in place to combat bad weather, it's never acceptable to press on with an event that could leave your guests in danger. It's responsible to cancel an event if it's not safe to go ahead. For example, there might be a significant chance of flooding or power shortages, increased slip and trip hazards or suppliers not being able to access your event site.
We wish we could predict the bad weather, but none of us can. At least Adverse Weather cover is here to soften the blow if your event really can't go ahead due to bad autumn weather.
If you'd like to find out more, please fill out a quick quote form.
Don't leave the success of your event up to chance
Play our interactive game to find out how poor weather really can impact your event.